---
! ! H O U S E . T O . H O M E ! !
---
A West Seattle Craftsman House
[click on any image to see a closeup]

---
What it Takes to Move a House!
This web page is devoted to an exciting project involving the moving of a West Seattle Craftsman house to make way for building beautifully designed townhouse units in a developing, mixed-use zoned area of California Avenue SW.
My name is Jeff McCord, and I am a graphic artist and architecture enthusiast who lives and works in West Seattle. I love this place, and I love its character and vitality, the proximity to downtown Seattle, and while it continues to retain its feeling like a "small town neighborhood." I could be called a "West Seattle Evangelist" by all the people I have encouraged to move to or buy houses in West Seattle!
---
Previous Development/Restoration by Lisa Kennan-Meyer

---
How the Project Started
I came about the project after having stopped by a newly developed property on California Avenue SW [click on Development/Restoration images above]. The project was designed by Lisa Kennan-Meyer, and it was a two lot development which combined new construction which had some character of the old houses and restoration of one of the two Craftsmens that remained. I went in to Lisa's architectural office to compliment her for designing a condominium that honored the old building style, and especially that she was able to save a house in the process!
Lisa surprised me by saying that the other house had also not been destroyed…Instead, it had been loaded up on a huge dolly and moved to a few blocks away behind the West Seattle Nursery [click on Previous House Move images below]. She explained that when that development had been done, one of the two houses had been given away (for $1) and the house had been moved one early morning at 3:00 a.m.
She then added that she was going to soon be involved in designing another property which also had a house that might need to be given away. "You should contact the developer," she said. I was floored! I then went on to contact the new owner of the soon-to-be developed property, Lavonne Bissell, and Lavonne agreed to consider me as a candidate to be allowed to take the house and move it to another location!
As Easy As 1-2-3…4…5?
Once I saw that a project could be born, I began researching what it takes to move a house. I learned that, in some ways, it was easier and cheaper than some people might think. On a basic level, it is a matter of 1). jacking it up; 2). loading it onto timbers and then onto a dolly; 3). rolling it down the street (beginning at 5:00 am so the traffic isn't blocked; and 4). placing it onto 'cribbing' at the new property location until a foundation can be completed.
Where it gets complicated is when you realize that a myriad of utility wires have to be temporarily raised up (while still in service) to stretch over the top of the house with each of the utilities. This means that a house is best kept within a 3-6 block area to be moved to. Every set of wires begins to multiply the expense of a project. The other main obstacle is finding a place to put the house!
---
Another House that was Saved

---
…A House Worth Saving…
As we all know, Seattle is one of the fastest-growing cities in America. Since property values keep climbing and people continue to move to Seattle, there is a demand for more development within appropriately-zoned parts of the City. In fact, the DCLU has continued to break records each year for the total dollar amount of projects approved and the speed at which they process permits. The one cost from a historical perspective, however, is that very beautiful houses within mix-used and Urban Village areas often get lost because it is too costly and too difficult to consider moving the house to another location.
The example house I was talking about that did get moved is a large Craftsman with some classic details. It was moved to its new home despite the fact that it is very rough around the edges and will actually need quite a bit of restoration work to get it back in shape. Still, it is clearly a beautiful, stately house and very much worth saving.
I feel lucky in the fact that my subject house, while it doesn't have a sweeping Craftman porch, has very nice Craftsman lines and a classic shape. Also, it is comparably in much better shape over all than the previous example.
Example Houses
Please [click on the Slated for Removal images] below to see other examples of houses which may need be demolished to make way for developments on California Avenue SW. One is a cute little cottage and the other is a classic brick house. These two developments (not related to Lavonne's project) appear to be more typical of what has been happening on California, and perhaps without quite the nice architectural grace that Lisa Kinnen-Meyer's designs promise.
The cottage, sadly, is an example which has already been destroyed since the taking of this picture. There are many more situations like these that are simple factors of growth within our city. Even with the best of intentions, developers need to have a realistic financial goal, and allowing a house to be moved depends on whether the house is a nice enough example to encourage a determined recipient to do all the ground work needed to make it happen (in this case, me)…Perhaps the cottages and difficult-to-move brick houses are not good candidates for being moved.
---
Houses Lost or Slated to be Lost

---
Model Project
One of my goals is to begin to document "How to Move a House" as I progress on this project, and also to work with the City and see if there are ways to eventually streamline and incentivize the prospect of moving rather than demolishing a house. I have been excited to meet and talk with a Code Development specialist within the DCLU who comes from the East Coast where they are much more apt to move a house. Her name is Lisa Raflow, and she too has been excited about possibly using this one as a "test case" to encourage future examples like it.
It will also take having architects like Lisa Kennan-Meyer and developers like Lavonne Bissell who recognize the importance of restoration, inclusive design, and possible house-moving, even when it involves developing a mixed-use zoned location with new construction.
Where to Move it To
I am currently midway through the process of what it takes to move a house. I recently met with Levonne Bissell and her husband for the first time in person, and now I am at the stage of how to secure another property near enough and suitable enough to move the subject house to.
It is important that the location be a lot which is large enough to accommodate the moved house, where the current owner is willing to sell, and where the permitting process based on lot size and zoning fits within the DCLU requirements and passes quickly.
What this means is that I have needed to spend many hours pouring over plat maps and walking the neighborhood surrounding the current property, and I have identified a few strong candidate properties and a substantial backup of other properties so that owners can begin to be contacted. Please [click on the Sample Properties below] to see some typical samples of properties that may be on the short or extended list. An additional criteria that I have added is to pick a few possible properties that appear run-down or less cared for, so that a neighborhood would very likely benefit from and be supportive of a nice house being moved there!
---
Examples of Potential Lot Types

---
What's to Come?
This web page will be used to have ongoing information about the house moving project. I will use it to post information, images, and updates for people to view who are involved with the project.
Much more is to come, so please check back or look for notices in your e-mail. My contact information is as follows:
Jeff McCord
®Free-Lancelot®
Phone: 206-933-9699
FAX: 206-938-0290

E-mail: jeff@housetohome.org
News Flash!
The house will be moved on Saturday, April 14, 2001, beginning at about 5:00 am. Please feel free to come and watch. It will start from 5953 California Ave. SW, and travel about three blocks to its new location!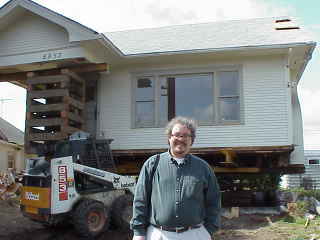 Me in Front of the "Loaded" House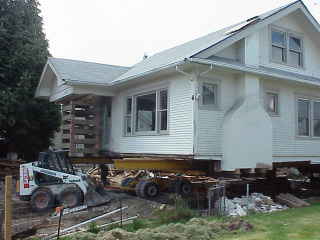 A 3/4 View of the House on its Dollies
Update
The house was successfully moved! As of April 13, 2001, the house is now at 6049 45th Aveneue SW, awaiting the foundation work to begin (which is expected in later June, 2001).
Subsequent sections of this website will tell the rest of the story since 2001!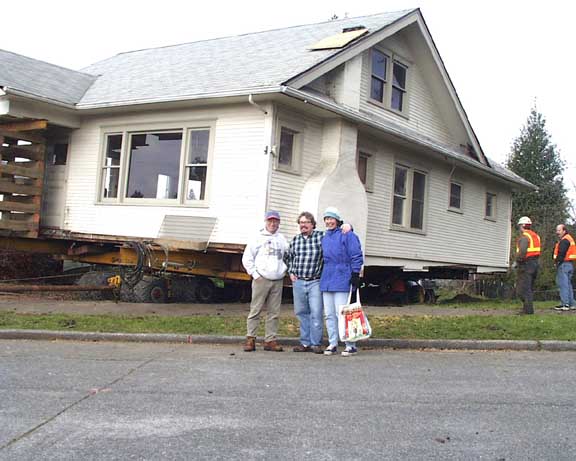 The House as it is being Placed at its New Location
---
Copyright © 2001-2004 Free-Lancelot®. All rights reserved.
---